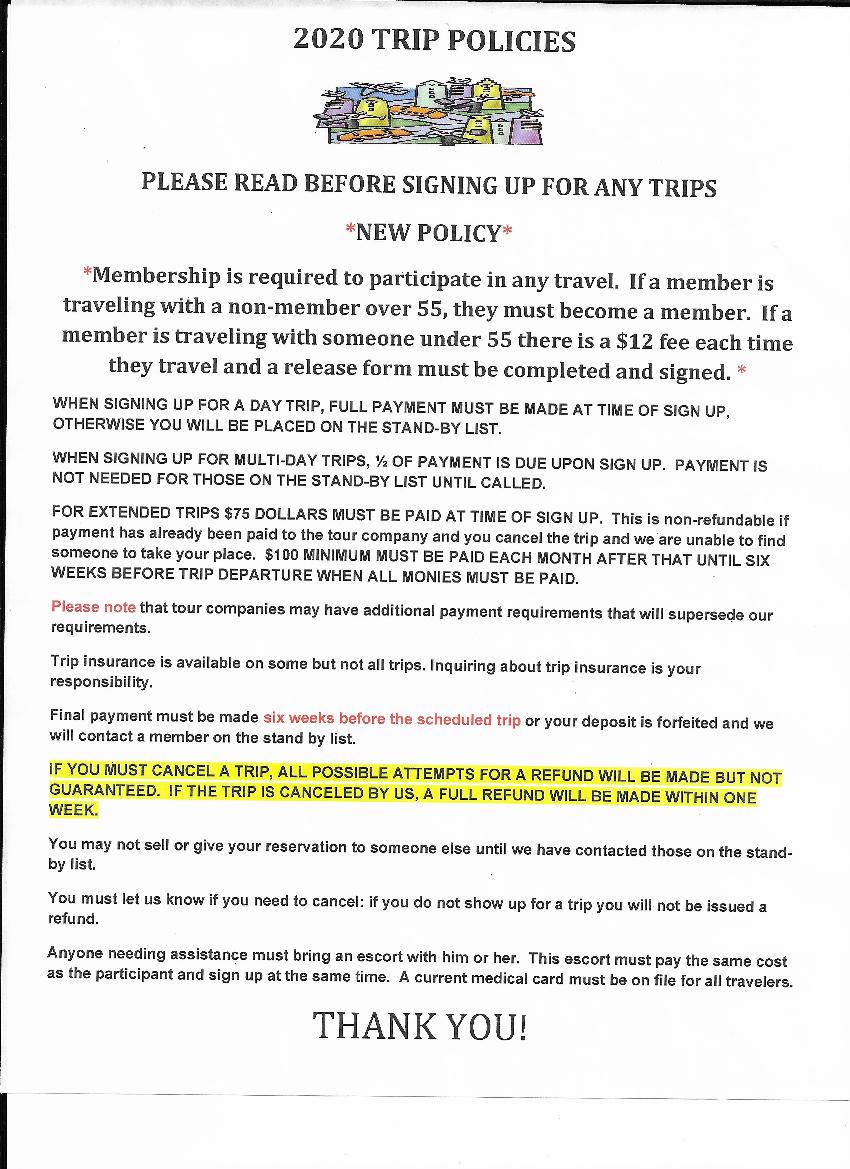 Please make checks payable to PAJRD. Checks made out to Perry Senior Center can not be accepted. Please contact the Senior Center for Travel Insurance information.
Perry/Painesville Senior Centers
December
Christmas in London--December 11-17th. This Collette Tours trip highlights: Harrods at Christmas, Buckingham Palace, Big Ben, Christmas Markets, Covent Garden, London Theatre, Oxford and Blenheim Palace. Cost per person is $2449, double occupancy and includes air fare, transfers and taxes. A brochure is available at the Center with all the details.
New Year's at NOON on the Nautica Queen--We'll ring in the New Year at 12:00 pm with a champagne and noise makers. The Nautica Queen will then cruise Lake Erie while we enjoy a wonderful buffet lunch and music for dancing or just enjoying. Cost is $73.00
May
New York City--May 15-19th, 2020. We'll see the Statue of Liberty and Ellis Island, a guided tour of Manhattan (9/11 Memorial,Rockefeller Center, Times Square, Central Park, Wall Street and much more. Cost is $639 prepaid, double occupancy. Deposit due upon signing with final payment March 8th.
The Sound of Music Tour
to Vermont--June 22 to 25th, 2020. 3 nights at the Killington Mountain Lodge. Tour the Von Trapp Family Lodge, the Ben & Jerry's Ice Cream Factory, the capital of Vermont, Montpelier and the Vermont Country Store. Cost of the trip is $549.00 pp/dbl with a $50 deposit to reserve.
Lancaster, PA and the Sight and Sound Theatre
--August 12 to 14th, 2020. See a performance of Queen Esther at the Sight and Sound Theatre. Plus a guided tour of the Amishlands of Lancaster and a dinner show at Dutch Apple Dinner Theatre. There will be shopping at Kitchen Kettle Village and Tanger Outlets. Cost of the trip is $439.00 pp/dbl with a $50 deposit to reserve.
Martha's Vineyard and Nantucket--
September 13-18th, 2020. Enjoy tours of Martha's Vineyard,
Cape Cod, the Kennedy Compound and Hyannis Port, Nantucket, Plymouth and a cranberry bog. Cost is $882.00 pp/dbl with a $50 deposit due to reserve.
For more information on the trips or to sign up, please contact the Perry Senior Center at 440-259-3772