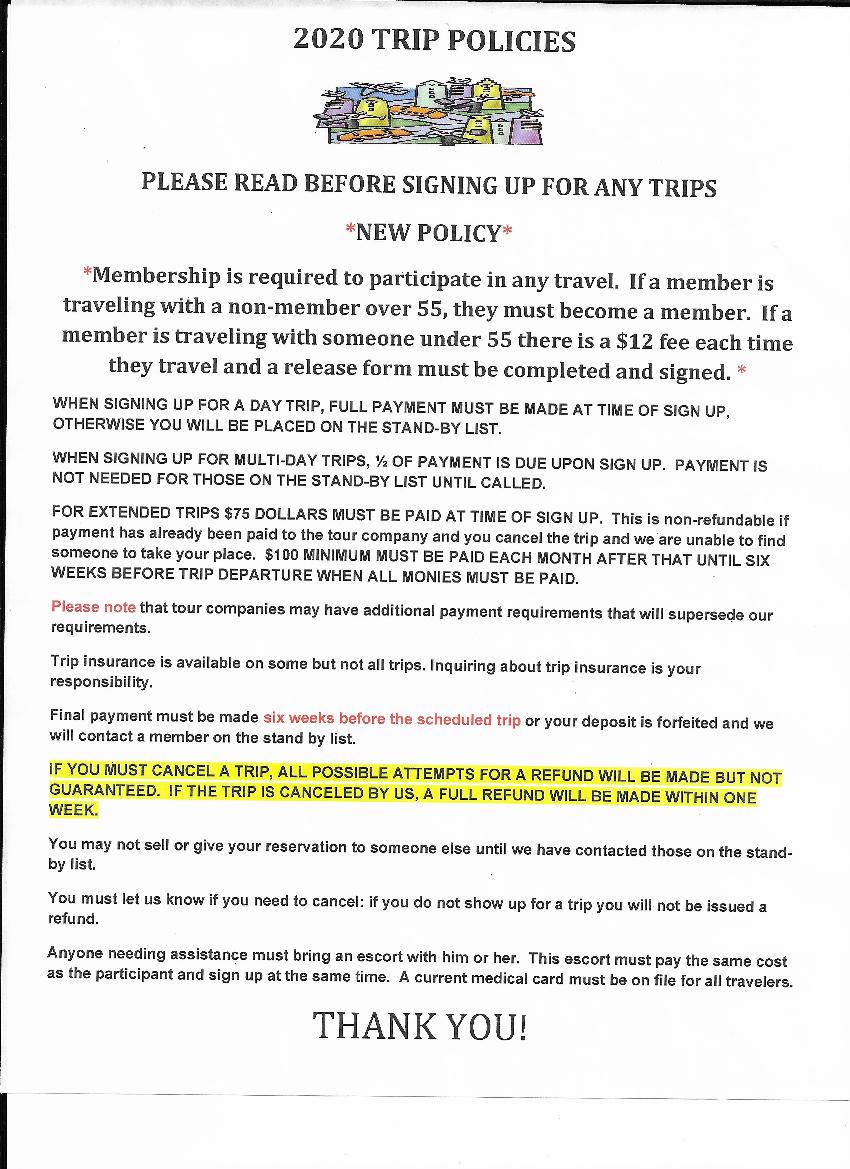 Please make checks payable to PAJRD. Checks made out to Perry Senior Center can not be accepted. Please contact the Senior Center for Travel Insurance information.
Perry/Painesville Senior Centers
CANCELLED--The Sound of Music Tour to Vermont--June 22 to 25th, 2020. 3 nights at the Killington Mountain Lodge. Tour the Von Trapp Family Lodge, the Ben & Jerry's Ice Cream Factory, the capital of Vermont, Montpelier and the Vermont Country Store. Cost of the trip is $549.00 pp/dbl with a $50 deposit to reserve.
CANCELLED--Summer Surprise Mystery Trip--June 26, 2020 Enjoy a day full of surprises that combine unique areas, sites and attractions. You will need a sense of adventure, a good sense of humor and good walking shoes. Lunch is included. Cost is $87 per person.

July
CANCELLED--Historic and Ethnic Tour of Cleveland Part 3--July 3,2020. We'll visit a dance hall, Brewery Trail, a Nut factory, the site of the Cleveland Stockyards, a driving tour of the Gordon Square Arts District and lunch at the Jack Casino. Cost is $77 per person.
CANCELLED Lancaster, PA and the Sight and Sound Theatre--August 12 to 14th, 2020. See a performance of Queen Esther at the Sight and Sound Theatre. Plus a guided tour of the Amishlands of Lancaster and a dinner show at Dutch Apple Dinner Theatre. There will be shopping at Kitchen Kettle Village and Tanger Outlets. Cost of the trip is $439.00 pp/dbl with a $50 deposit to reserve.
CANCELLED Always Patsy Cline--August 20th,2020. This musical is presented by Rabbit Run Theater. Dinner before the play at Grand River Cellars. Cost is $47.00 for a chicken/rib combo dinner, a wine tasting, tax and tip, and theater ticket.

Canadian Rockies by Train--August 20-28th. Brochures are available at the Front Desk.
The Everly Brothers Experience--September 10, 2020

Martha's Vineyard and Nantucket--September 13-18th, 2020. Enjoy tours of Martha's Vineyard,
Cape Cod, the Kennedy Compound and Hyannis Port, Nantucket, Plymouth and a cranberry bog. Cost is $882.00 pp/dbl with a $50 deposit due to reserve.
Detroit, the Comeback City--October 14, 2020 Cost is $101 per person.
For more information on the trips or to sign up, please contact the Perry Senior Center at 440-259-3772